Tuesday 16th August
Estraven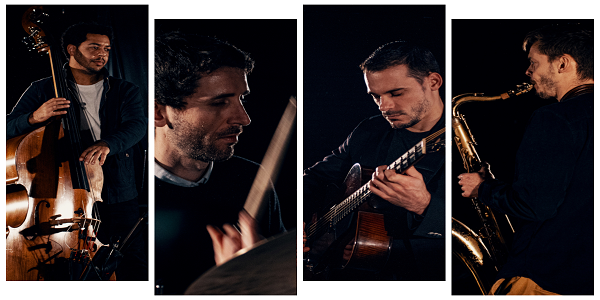 Odd-time palpitations, Eastern tinged melodies and full-throttle improv make up the sound of London based band Estraven.
Their debut album Ignored Advice, which was released in March 2022, features all original compositions that stem from bassist composer Chris Hyde-Harrison's love of jazz, post-rock and various world musics. Collectively the band share a love of modern jazz that includes the music of Ben Wendel, Ari Hoenig and Mark Turner.
"both adventurous and accessible, blending complex rhythmic ideas with an innate sense of
melody"

JazzMann.com
The band includes rising star saxophonist Duncan Eagles, well known for his work with critically acclaimed band Partikel.
Saxophonist Duncan Eagles holds the stage with his attractively dry tone, sharpness and the
urgent ferocity of his tenor improvising.

John Fordham, The Guardian

Guitarist Alban Claret was born in the south of France, and went on to study at the Royal Conservatory of The Netherlands with Martijn Van Iterson. Over the past ten years he has maintained a busy touring schedule across Europe, and has also spent some time studying with US guitarist Peter Bernstein.

Matt Parkinson is a drummer, percussionist and composer based in London. He is known for his creative and musical approach, across a wide spectrum of groove-based styles. His current creative projects include Howl Quartet and Aspyrian.