Southampton Jazz Club is one of the longest continuously running jazz clubs on the south coast. It has been hosting jazz concerts featuring nationally and internationally renowned musicians for over 40 years but where did it all start?
It started with a keen, knowledgeable group of enthusiasts in Alan Greening, Ron Pack, Andy Iles and the founding Chair Gary "Skip" Conway who created a popular club with live bands playing weekly by 1976. Its first real home for the club was at The Joiners in St Mary Street, where it remained until 1988. Skip and his team put the Joiners on the International jazz map.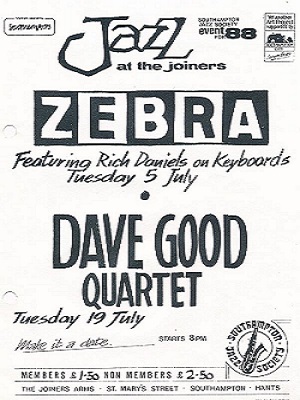 During one year they offered a full 52 week programme, with Pam Cotton taking ticket money on the door and Jill Nixon as Treasurer.
When "Skip" stepped down as Chair in 1979 it was young Andy Iles who took up the challenge of booking bands. Andy has served Southampton Jazz Club very well ever since – that's over four decades plus some! "Skip" stayed involved with the Club acting as Andy's mentor until 2004 when "Skip" passed away.
In the early years, a membership of over 200 and attendances of 200+ were quite common. As well as local bands and organised Jam Sessions, the Club had national bands led by outstanding musicians, trumpeters to the fore: Kenny Baker, Ken Colyer, Humphrey Littleton, Alex Welsh, Cuff Billett, Bunny Austin and a younger Guy Baker along with Clark Tracey on drums.
American guests were always popular and in 1981 the Harlem Jazz and Blues Bands with a big favourite, 'Ram' Ramirez, on piano – who wrote and worked with Billie Holiday – played to over 250 audience members! Guest stars performing at The Joiners included the trombonist Al Grey, one of the "Four Brothers", Al Cohn, Benny Waters, Jean Toussaint, Al Casey, Pepper Adams, Conrad Herwig, and vocalist Kim Parker (step-daughter of the legendary Charlie Parker).
The Club was able to book visiting Americans to play alongside our superb local musicians such as Monty Warlock, Ray Ember, Ian Anderson and Ray d'Inverno. Ray was a player, band leader, chairperson, as well as mentor to saxophonist Andy Sheppard. Other local musicians included Sid Carter, Colin Brinton, Bill Pritchard, Paul Stiles, Mike Herridge, Lee Goodall, Dave Good and Pat Bond.
In the 1980's the Club gathered on alternate Tuesdays at the Solent Suite (under the Guildhall) with superb support from Southampton City Council and Southern Arts.
With the Solent Suite, we had a "new" world of jazz. Amongst the great names attending were: Alan Skidmore, Dan Weller, Bobby Wellins, Peter King, Andy Shephard, Alan Barnes, Derek Nash, and the Morrissey Mullen Band.
The Stan Tracey ensembles from octet to trio were huge favourites, featuring Clarke Tracey, American Bud Shank, trumpeters Guy Barker, Bobby Wellins and Peter King. We also hosted Joe Pass, James Moody and Carla Bley.
Southampton was very lucky, and still is, in that it had wonderful local pianists like Monty Warlock, Alvin Ember and Leon Greening (still a regular at Ronnie Scott's Club) available to play.
Ray was a special leader of many great bands and fantastic pianist, as well as an excellent chair. However, by the early 1900s his role as a Southampton University Mathematics Professor was taking up more of his time, and Steve Gladders took over both as Chair and Sound Engineer. In 1996 Ian Gilchrist took over the reins, and recalls some of the changes he made:
At the time I became Chair the Club was putting on weekly concerts during term-time only, the thinking being that as the Arlott Bar was part of the University, students would be among our natural audience, and of course wouldn't be there during the holidays. Alas, despite being situated a mere 30 metres from the students union and even being offered half-price tickets, very few were turning up, so I persuaded the committee to change to monthly concerts all year round, as I reckoned these would be something the general public would put in their diaries and look forward to, rather than weekly ones they might sometimes decide to miss.

We also began to ask everyone who attended for their email addresses so we could remind them of future concerts. Such a tactic is commonplace today, but nobody had thought of it then.

It worked! Just one year later we had a database of well over 200 and the audience had shot up from an average of 45 to 75, (though the students were still being glued to their pints in the SU bar!). I have a 2005 programme pinned up at home recording 70 people attending Alan Barnes, 70 for the New Jazz Couriers with Mornington Locket and Martin Drew, 90 for Trudie Kerr singing with the Frank Griffith Nonet, and an astonishing 115 for sax legend Andy Sheppard, accompanied by Ray D'Inverno.

Ian Gilchrist
Chair 1996 to 2007
Towards the end of the decade the hire charges for the room had crept up, so after some incredible good nights with dozens of great bands we moved to the Stage Door for a couple of years. At this time Phil Aldridge was the Chair of the Club and Michelle Rice, along with Vicki Martin assisted with the running of the Club (Michelle and Vicki later ran the Club from 2016-18).
Over the years I played at the club many times and with various bands. I did my first gig with a Dixieland band in the Solent Suite but played many times at that venue, as well as at the Joiners and the John Arlott Room with Tim Colwell's Jazz Friends, various Ray d'Inverno bands (Objective Ear, Focus on Sanity, the SMC Big Band,and Arachnid) as well as Egg on Legs and some under my own name, playing trumpet and flugelhorn. I was also present at many notable gigs from Dick Morrissey to Ted Curson, Kenny Wheeler to Art Farmer.

Don Richards
In March 2013 we moved to a very hospitable venue, The Talking Heads, and Andy Iles was back in the chair. This venue had a superb stage with great acoustics and we were happy there until late 2018 when it closed.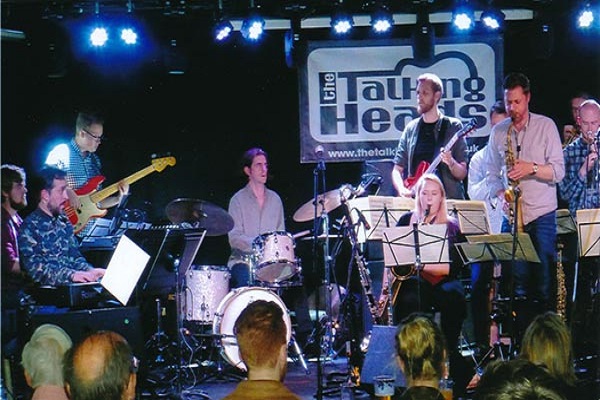 Southampton Jazz Club was hosted at the Mercure Dolphin Hotel for a while before moving to The Stage Door.